When the Academy Training Center closed down after Chip left, some of the gear was sold off (bought up by a Academy devotee). The white bondage chair and display case are available for purchase from that individual (not affiliated with StationHouse Video Distribution).

Items must be picked up in Columbus area of Ohio; Please contact leatherrestraint@yahoo.com directly with serious offers or inquiries only; mention this page when you do.

NOTE: StationHouse Video is not responsible for this sale or for delivery of items. We believe this individual is sincere in his offers and has the items in question.
The "Metal" Bondage Chair
$4,800 asking price*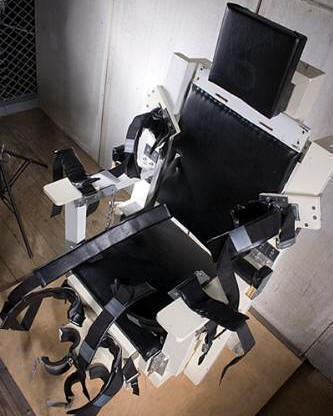 Seen in the ManHunters, Top Cops 2, Outtakes 2
Dimensions: base 4x4 ft. (1½ in thick)
Total weight about 300 lbs
The chair is mostly of hardwood construction.
Includes the head "cage" assembly and all restraints.
(Note: can be partially disassembled)
| | |
| --- | --- |
| | |
| | |
The Wood Display Case (with stocks)
$1,700 asking price*
seen in Academy Training 3, Outtakes 1, Tough Enough
Dimensions: 8 ft tall, 68x58 inch base
Includes: rheostat controlled lights,
ventilation fan, and, of course, the stocks for head
and arms
Disassembled and wrapped for transport
Total weight about 1000 lbs

Note: Bondage Chair not included in purchase
(nor is cop or exhibit)