Rich is quick to oblige Chase in stripping down for a try out
and a bit of personal service.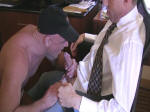 Chase uses his tie to lightly restrain Rich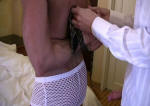 before throwing him face down on the bed for a ass warming with two paddles,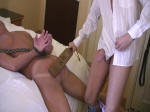 and some ass play with a night stick.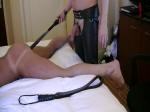 After loosening Rich up, Chase plunges his substantial cock into a gagged Rich (who moans through the gag).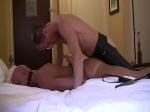 He then hauls Rich up and does it doggie style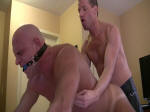 followed by some more ass play with a butt plug and the night stick.
Things move along as Chase tightly collars Rich and orders him into the tub for some liquid refreshments.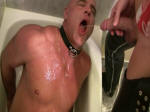 A rather submissive Rick is then lead by his collar back to the bed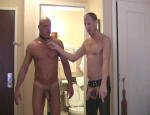 where he provides excellent oral service to Chase.
Finally Chase cums all over Rich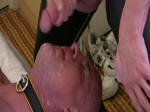 who then cums himself. Part One ends with Rich getting the role and still eager for more of Chase.